De Panne, the southernmost seaside resort of Belgium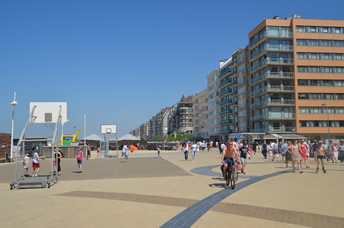 De Panne is situated close to the border with France in the south-west of the Belgian coast. De Panne is known for its elongated dunes, the widest beach of the Flemish coast and the cosy town centre. Above all De Panne is the place of birth of beach sailing.
Beaches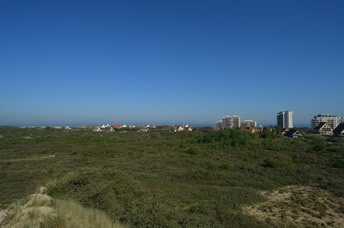 The beach of De Panne is one of the widest of the Belgian coast. Therefore there is plenty of space to lay down the beach, walk around or practice one of the many available sport activities. The wide beach without wave breakers and hardly any slope perfectly suits for small children. More possibilities are a great morning walk (optional with your dog) or a fabulous horse ride.
Village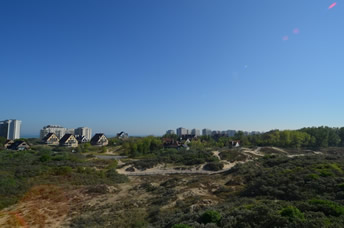 De Panne counts over a thousand hotel beds, five thousand apartments, five camping sites and two bungalow resorts. Unless the many luxury and modern apartments, one can notice that the town has developed during the times of Art Deco. By looking at the local cottage style, you can see that the town is close to the French border. The French 'bon vivant' is given a typical Flemish style. Especially the Dumont area is known for its many monumental villas and guest houses.
De Panne derives its name from a hollow in one of the many dunes. The unique landscape surrounds the crowded town. It is said that the dune area around De Panne is the largest of the North Sea coast. This probably is right, since De Panne 'owns' one third of all dunes, including the widespread sand marshland called 'the Sahara' which is often used as film scenery.
Sightseeing
People that visit De Panne not only enjoy the many possibilities (such as the foot paths, laying in the sun and many sport facilities) during the summer. In De Panne you can enjoy yourself all year long on the water or shore and from morning till dawn.
The enormous dunes, the widespread nature reserve areas, the many playgrounds (Plopsaland), the swimming pool and traffic-free boulevard are all characteristics of De Panne.
Plunge into the wonderful water world of Plopsaqua! Are you ready for a brand new adventure with Vicky the Viking? Then come take a dive into the wonderful water world of Plopsaqua! Boat along through the breathtaking whitewater river in a magical snowy landscape, or discover a range of water slides for all ages. Let yourself be surprised by the tropical storm in the wave pool ...
Book tickets online
De Pannelaan 68, Adinkerke
tel. +32 584 202 02
web.
More information
More information
It was the 17th of July 1831 on the beach of De Panne when king Leopold I set foot on Belgium soil for the first time. A monumental statue reminds one of that time.