Manege Ter Duinen - Riding school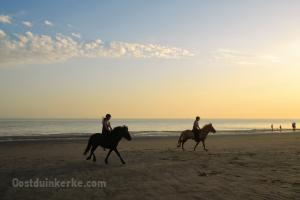 Experience the tranquility and beauty of the Belgian coast from a unique perspective by taking a beach horse ride at Manege Ter Duinen in Oostduinkerke. This riding school offers an excellent opportunity to explore the dunes and the beach on horseback.
Manege Ter Duinen is the perfect starting point for both dune and beach horse rides. Some experience is required to participate in these rides, as mastery of the three gaits of the horse is essential.
The dune rides take you through the expansive dune area of Oostduinkerke, with guided tours varying in duration and routes between De Panne and Nieuwpoort. On the other hand, beach rides offer a special and pleasant experience, allowing you to experience the sea and the beach from horseback. There are various options for beach rides, with routes stretching from Nieuwpoort all the way to France.
For reservations and more information, you can contact Manege Ter Duinen by phone. It is important to note that reservations for lessons and rides are accepted exclusively over the phone.
Prepare for a unique and memorable experience on the beautiful coast of Oostduinkerke!
Furthermore Manege Ter Duinen is near the following sights: National Fisheries Museum (±1,0 km), Abbey Museum Ten Duinen (±2,9 km), Kidsworld Oostduinkerke (±3,6 km), Aquafun Oostduinkerke (±3,7 km) & West Coast Wellness (±3,7 km).
For information:
Gulden Zandstraat 87, Oostduinkerke
web.
Website